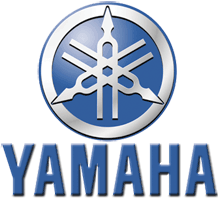 The Yamaha SR250 SE was a commuter style 4 stroke motorcycle manufactured between 1981 and 1985 (ish!). With styling taken from the Yam SR500 and SR400, the SR 250 was aimed at the popular quarter litre motorbike market (in the UK we used to be able to ride a motorcycle up to 250cc on a car license without the need to take any further motorbike tests).
The SR250SE proved to be (and still is) a popular and reliable commuter bike.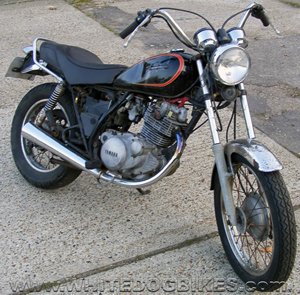 A little bit about the Yamaha SR 250 SE?..
Engine, gearbox and drive stuff
Displacement: 239cc ccm
Engine type: Air cooled, four stroke, single cylinder, SOHC (single overhead cam)
Bore x Stroke: 73.5mm x 56.5mm
Recommended engine oil (4T): Semi Synthetic motorcycle oil
Engine oil capacity: 1.3 litres (1.6 litres if the oil filter is changed as well)
Oil filter: OIF018 / HF145 / X302
Compression Ratio: 8.9:1
Power: 20 bhp at 7700 rpm
Torque: 13.7 ft-lb at 7000 rpm
Top speed: 89 mph?.Ish!
Standing ¼ Mile time: 16.3 sec
Cooling system: Air cooled
Gearbox: 5-speed
Final drive: Chain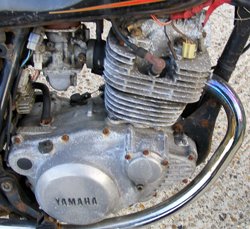 Carb and fuel stuff
Carb type: 34mm Mikuni carburetor
Fuel tank capacity: 10.8 Litres
Averge MPG: 70 mpg (miles per gallon
Electric stuff
Ignition type: Electronic CDI
Starter type: Electric starter motor
Battery: YB12A-A / CB12A-A
Spark plug: NGK BP7ES
Shocks, brakes and wheels
Front tyre size: 3.00-18 (300-18)
Rear tyre size: 120/90-16
Front tyre pressure: 28psi
Rear tyre pressure: 32psi
Front brake: Drum (expanding) brake
Rear brake: Drum (expanding) brake
Front wheel type: Spoked wheel
Rear wheel type: Spoked wheel
Front Suspension: 32mm Telescopic forks
Rear Suspension: Twin shock (with preload adjustment)
Weights ?n stuff
Wet weight (inc oil, petrol, etc): 122 kg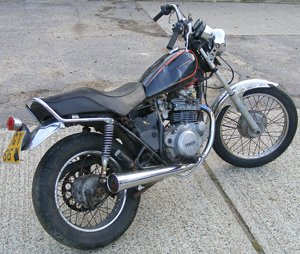 Other stuff?..
Although the SR250 SE was never going to set the motorcycle world alight and wasn?t really all that much to look at, the bike proved very popular with commuters, people looking for their ?first big bike?, younger riders, city couriers and people looking for a winter hack. Good Yamaha build quality and a fairly bulletproof engine means there are still a fair few around (meaning they are also cheap to pick up now, usually under £500 for a good, road ready example!)
Buying advice?..
As with all Yamaha?s of this age, the electrics can be a bit corroded and problematic (especially in the rain!).
Also, the metal and chrome parts will have seen better days, a bit of rust around the tank, forks and chrome parts is common and nothing to worry about but watch out for bad rot, especially on the exhausts and forks as finding good and none bank account emptying exhausts and forks can be tricky!
Sources:
Bikez.com
Motorcycle Specs
Motorcycle Breakers ? White Dog
Source: http://www.whitedogbikes.com/whitedogblog/yamaha-sr250-se-239cc-4-stroke-specs-and-info/
Johnny Bengtsson Angelo Bergamonti Werner Bergold Jacques Bernard Adrian Bernetic